Saturday and Sunday, July 11th and 12th, 2015, from 9am-3pm 
LOCATION: In and around Stillwater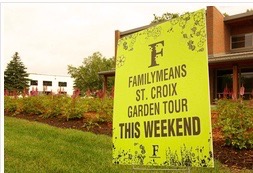 The annual St. Croix Garden Tour is a self-guided tour of gardens in and around Stillwater. This year the tour features eight gardens.
 
Volunteers from our St Croix Oak Savanna Wild Ones chapter will promote landscaping with native plants at one of the sites. Roger Miller and Mary Zweber have volunteered their yard and gardens for next weekend's tour. Staff from the Washington Conservation district will also be there to provide information on rain gardens and on other Conservation District programs.

The garden tour is $15 in advance and $20 the day of the tour. All proceeds benefit FamilyMeans, a nonprofit in Stillwater that hosts our Wild Ones meetings. FamilyMeans has helped strengthened families through programs in financial counseling, youth programs, therapy and counseling, caregiver support, and more. This is an excellent opportunity to see local gardens and support a great cause. 
PHOTOS of the native plant gardens hosted by volunteers from Wild Ones and Master Gardeners in Washington County.