We sponsor monthly programs on native plants and natural landscapes
---
No meeting in December
In the New Year:
Tuesday, January 16, 2018, 7:00 – 8:45pm meeting, FamilyMeans building — speakers invited, awaiting confirmation
Saturday, February 17, 2018 Design With Nature Conference, Anderson Student Center, University of St. Thomas, St. Paul Campus
Featured speakers include:
Jared Rosenbaum and Rachael Mackow own and operate Wild Ridge Plants, Pohatcong, New Jersey, where they are growers and stewards of native plants. They provide a comprehensive toolkit of services, including a native plant nursery, habitat restoration design, environmental education, and botanical surveys.
Catherine Zimmerman is an award-winning documentary filmmaker, certified horticulturist, and landscape designer from Washington, D.C. She also serves as a Wild Ones Honorary National Director. Her most recent film, Hometown Habitat, Stories of Bringing Nature Home, is a collaboration with Dr. Douglas Tallamy. The film explores how and why native plants are critical to the survival and vitality of local eco-systems.
---

Through our chapter activities, we learn more about native plants in home gardens and natural areas, and share ideas on design and effective methods for restoration and land management. Here is a summary of our 2017 programs, projects and events,
Field Trips and Outdoor Events
In May we enjoyed a spring wildflower hike at Interstate State Park with tour guide Dave Crawford, former naturalist at Wild River State Park. (15 attendees).
In June our chapter participated again in the Landscape Revival Native Plant Expo and Market in Roseville on June 3rd. Landscape Revival provides an opportunity for persons seeking locally-grown native plants to connect with native plant growers. Attendance grows each year and was estimated at over 1100 for 2017…
---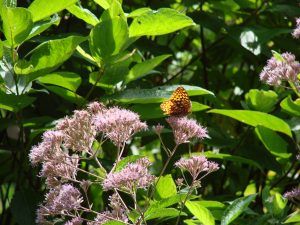 Wild Ones Mission
Wild Ones: Native Plants, Natural Landscapes promotes environmentally sound landscaping practices to preserve biodiversity through the preservation, restoration and establishment of native plant communities. Wild Ones is a not-for-profit environmental education and advocacy organization.